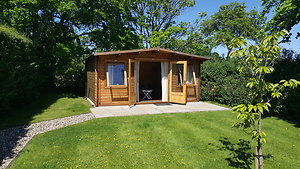 Reflexology, Hopi Ear Candles, Baby Massage/Reflexology and Indian Head Massage in Bletchingley, Redhill
Hello and welcome to my website, I qualified as a Reflexologist in 2002 and have been practising in Surrey ever since. My practise is based in Bletchingley, near Redhill. I have a beautiful treatment room in my garden, set in tranquil surroundings with views of trees and farmland, with plenty of parking space. It is easily accessible and very close to Redhill, Reigate, Oxted, Nutfield and Caterham.

I am a fully insured member of the Association of Reflexologists (AOR) and also qualified to practise Facial Reflexology, Indian Head Massage, Hopi Ear Candles, Baby Reflex and Baby Massage . I am continually working towards furthering my knowledge by attending specialist courses and workshops, so I can give the best care possible. These include Advanced Reflexology Techniques, Sub-Fertility, Maternity and Women's Health Issues including Menopause and Stress.

I have a particular interest in Women's health issue including Menopause, Maternity Reflexology and Baby Massage/Reflexology. The other group of people that I have a keen interest in treating are Teenagers, as they are under increasing pressure in many way and I find reflexology can really help them maintain a balanced life.

I also offer workshops and classes in Baby Massage and Baby Reflexology, so that parents can learn how to engage and communicate with their babies through gentle loving touch.These are also held in Bletchingley.

Home Visits are available by arrangement.

Reflexology can be used to help restore and maintain the body's natural equilibrium. This gentle therapy encourages the body to work naturally to restore its own "healthy balance", especially following illness, stress, injury or disease, all of which cause a state of "imbalance" and block vital energy pathways, preventing the body from functioning effectively. It is suitable for all ages from the babies right through to great granny and may bring relief from a wide range of acute and chronic conditions.

To visit the Association of Reflexology Website just CLICK HERE to go straight to it.